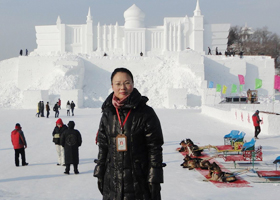 As implied from our name, we specialize in one thing only - organizing tailor-made private tours for individuals and small groups all over Harbin. From fun and educational family tours to luxurious VIP tours and private Ice Festival tours.

Traveling alone or with a group, accompanied by small children or hard-to-impress teenagers, Inside Harbin or Outside Harbin - whatever your needs are, we will make sure to tailor made the perfect tour to match it.

Dedicated and Reliable Harbin Tour Guide Service
The most professional, experienced Harbin tour guides - Our tour guides are our biggest advantage. We work only with the most knowledgeable, fun and reliable Harbin tour guides around.

Tailor made Harbin Private Tours & Harbin Ice Festival Tours - Our senior tour advisers will help you plan your private tour of Harbin according to your interests and needs.

Special Needs -
Traveling to Harbin with kids, elderly or people with disabilities? Need a VIP tour of Harbin for a special guest? Our
attentive Harbin tour advisers will make sure
all your special needs will be met to your complete satisfaction.
An Harbin tour English and Chinese Bilingual Language - Harbin Private Tour Guide provides professional tour guides at various languages. Contact Harbin Private Tour Guide for more information.

English Translation & Interpreter - some of us are professional in English, graduated from good university in China, also had worked in western companies. So we are good at business assistant , import and export , visit factory , join the exhibition and market research.

Affordable Prices - Being one of the largest private tour guide service in Harbin, we can offer the most competitive price in the market.

All you have to do is tell us what your specific needs are, and one of our travel experts will help you plan your custom made itinerary.
To book your private tour of Harbin, or to ask us any question regarding your Harbin travel needs simply reach us via harbintouguide@163.com Email or WeChat: icefestivalharbin. One of our travel experts will get back to today.
Last Updated on Monday, 27 May 2013 10:42
Contact Harbin Private Tour Guide


Good to Know Harbin Hotels information


Where is best location hotels to live in Harbin city, Heilongjiang province, China! We are local Harbin expert who will give you some suggestions, currently Harbin top 1 hotel is the Rits-Carlton, Harbin hotel, it was open on 2021, during covid-19 period, but this hotel was build long time around 10 years, final finish, for live comfortable is best choice, the highest hotel in Harbin, you can see Songhua river, and winter time you can see ice festival hold place at ice and snow world, through window you can see clearly, it is best to view Harbin new city area, but transfer condition is not very convenient, only can call a car go everywhere in Harbin, close by no restaurant, it is not easy for walking, also in bus transfer circle, a little difficult to cross each street, not

Available Harbin Day Tours

Harbin Day Tours

RECOMMENDED ON TripAdvisor